PEBB Enterprises and Banyan Development Close $33 Million Sale of Mainstreet at Boynton Beach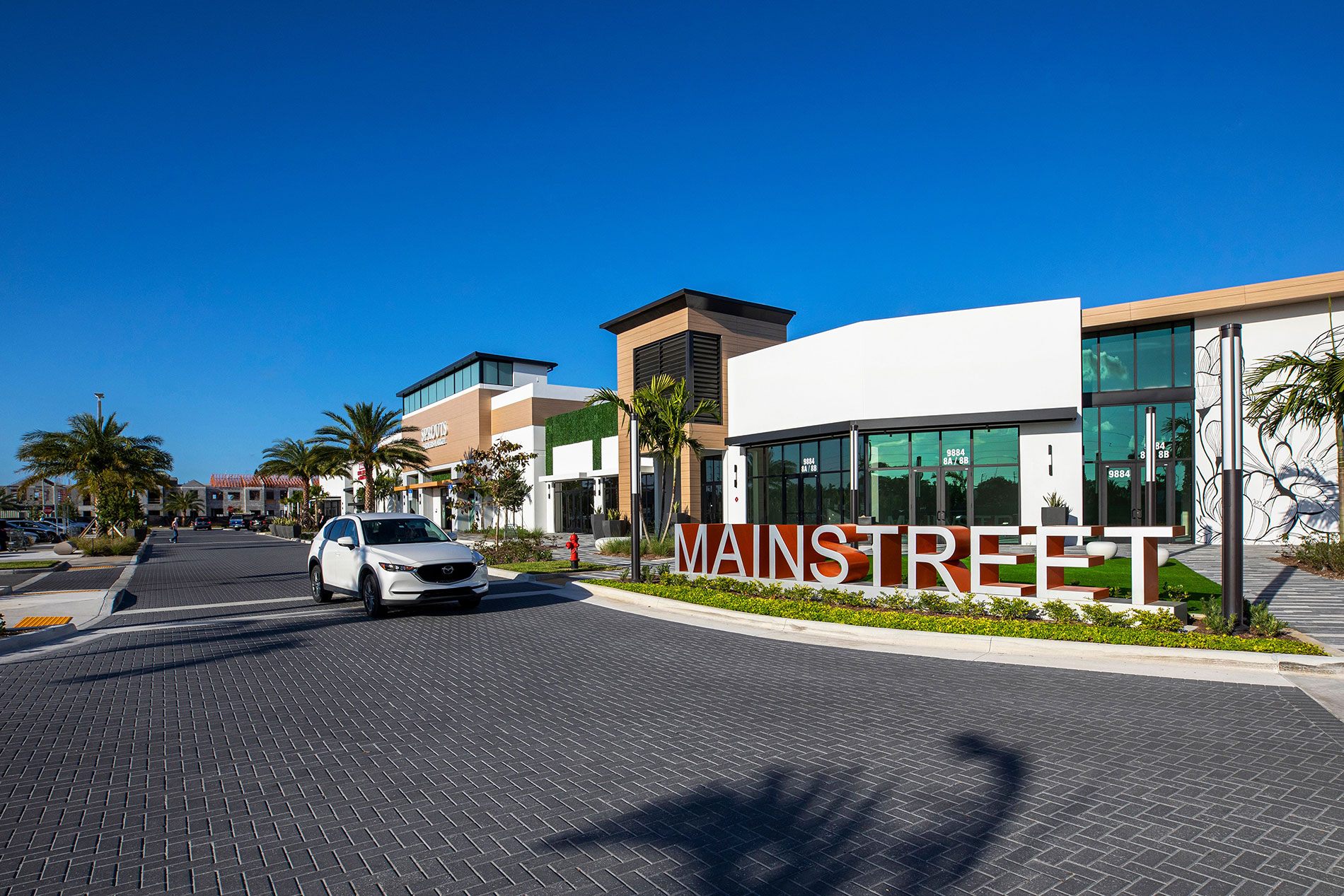 Joint venture completes successful disposition of Sprouts-anchored plaza it developed in West Boynton
BOYNTON BEACH, FL – Sept. 12, 2022 – PEBB Enterprises and joint venture partner Banyan Development closed the $33 million disposition of Mainstreet at Boynton, the Sprouts-anchored retail center the companies developed in the West Boynton area of Boynton Beach, Florida. The venture completed the transformative development in 2021.
West Parkway Realty LLC is the buyer. The transaction closed on Sept. 8.
The sale does not include other components of the mixed-use Mainstreet development, such as its 158-unit Congregate Living Facility and numerous outparcels.
PEBB and Banyan were able to fully lease the 52,152-square-foot Mainstreet with a strong tenant roster that is 90.5% comprised of national retailers. Besides Sprouts, tenants include AT&T, Crown Wine & Spirits, F45, Capitol Carpet & Tile and GoodVets.
"Our joint venture is extremely proud of the development and lease-up of Mainstreet at Boynton, a project that addresses the major need for high-quality retail to serve the West Boynton community," said PEBB Enterprises President and CEO Ian Weiner. "We closely collaborated with the city and residents to conceive a project that enhances the lives who those who live and shop locally."
JLL Senior Managing Director Danny Finkle and Senior Director Eric Williams represented PEBB and Banyan in the sale.
Located at 6405 W. Boynton Beach Blvd., Mainstreet benefits from the visibility and traffic that comes with being positioned at the intersection of Boynton Beach's busiest thoroughfares. An average of 88,500 vehicles pass by the property each day.
PEBB and Banyan previously sold Mainstreet outparcels occupied separately by Wawa, Aspen Dental and Synovus Bank.
"This transaction is the culmination of a true labor of love for our Palm Beach County-based companies," said Jason Sher, Principal at Banyan Development. "It also shows the incredible demand for Class A retail acquisitions in the county's fastest-growing areas. We look forward to developing more impactful projects in and around our home base."
Mainstreet at Boynton was honored by the South Florida Business Journal as the "Best Speculative Project" during the publication's 2020 Structures Awards.
###
About PEBB Enterprises: Based in Boca Raton, FL, PEBB Enterprises is an entrepreneurial, full-service private equity real estate investment company. PEBB has operated as a family-owned business for more than four decades and takes pride in the company's team of forward-thinking associates who continue to push and expand PEBB's growth daily. PEBB has an unparalleled track record of acquiring and developing high-quality neighborhood, regional and power shopping centers, as well as suburban office buildings. The company's vast portfolio includes properties in Florida, Texas, Nevada, New York and numerous Midwest and Southeast states. For more information, visit https://pebbenterprises.com/.
About Banyan Development: Banyan Development is a real estate investment company primarily focused on ground up development and investment in the state of Florida. Banyan and its principals have investments throughout the US that include retail, industrial, medical office, residential & multi-family assets. For more information visit www.banyandev.com.
Media Contact: Eric Kalis
954-370-8999
[email protected]