PEBB Enterprises Closes $12.87 Million Sale of Tesla Service Plus in West Palm Beach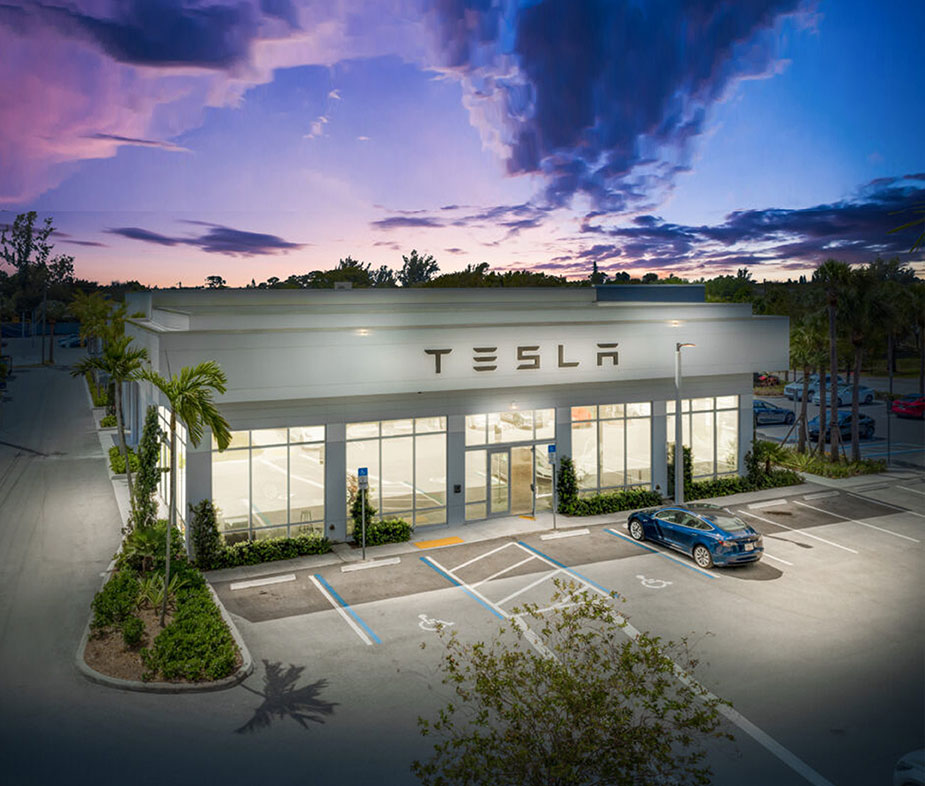 PEBB Enterprises closes $12.87 million sale of Tesla Service Plus in West Palm Beach
Real estate firm successfully develops new locations for electric vehicle company in South Florida, Minnesota, North Carolina and Pennsylvania
WEST PALM BEACH, FL – Oct. 1, 2020 – PEBB Enterprises, the entrepreneurial private real estate investment firm, completed the $12.87 million sale of a new Tesla Service Plus location in West Palm Beach. The firm developed the West Palm Beach location for the pioneering electric vehicle company as part of a broader partnership that also includes sites in Minnesota, North Carolina and Pennsylvania.
Located on 3.62 acres at 5544 Okeechobee Blvd., the West Palm Beach Tesla Service Plus facility totals 23,240 square feet. Tesla is under a long-term lease at the property which provides for a wide trade area for both vehicle sales and service needs. PEBB completely redeveloped the property to rebuild and expand the existing 1980's structure, to modernize the site and bring it up to current code standards.
California-based Hanson West Palm Beach, LLC is the buyer. The transaction closed on Sept. 30. Putnam Daily of Preserve West Capital represented PEBB in the sale. The buyer was represented by Newmark Cornish & Carey.
PEBB originally purchased the project site for $5 million in July 2017.
The site was particularly attractive to Tesla because of its positioning within a heavily trafficked "Auto Row" adjacent to numerous luxury car dealerships, access to the Florida Turnpike and Interstate 95 as well as allowing for parking of 280 electric vehicles.
PEBB also recently opened a Tesla Service Plus in Raleigh, North Carolina. Located on 3.46 acres at 7101 Glenwood Ave., the new facility totals 38,745 square feet. It benefits from having access to a daytime population of more than 1.24 million within a 15-mile radius and is near other vehicle-related tenants, shopping centers and major retailers.
The firm has also developed Tesla sites in Maplewood, Minnesota and Wexford, Pennsylvania.
PEBB continues to diversify its national portfolio of real estate assets, with a mix of retail, office, mixed-use and automotive investments and developments.
"It has been exciting for our firm to cultivate a relationship with Tesla and be able to expand it with these projects," PEBB Enterprises President and CEO Ian Weiner said "This partnership underscores the entrepreneurial nature of our firm, as we are always looking for new opportunities to diversify our nationwide real estate portfolio.  We look forward to future opportunities to collaborate with the company."
###
About PEBB Enterprises: Based in Boca Raton, FL, PEBB Enterprises is an entrepreneurial, full-service private equity real estate investment company. PEBB has operated as a family-owned business for more than four decades and takes pride in the company's team of forward-thinking associates who continue to push and expand PEBB's growth on a daily basis. PEBB has an unparalleled track record of acquiring and developing high-quality neighborhood, regional and power shopping centers, as well as suburban office buildings. The company's vast portfolio includes properties in Florida, Texas, Nevada and numerous Midwest and Southeast states. For more information, visit https://pebbenterprises.com/.
Media Contact: Eric Kalis
954-370-8999